Medium Peace Lily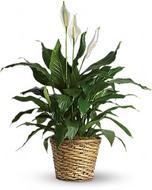 SKU: T105-2A
Give peace a chance! Also known as the Peace Lily, the spathiphyllum plant enchants everyone with its glossy, graceful leaves and stunning white flowers. This long-lasting gift is a wonderful way to send your sympathy, or to brighten up a lucky man's day. Also makes a great corporate gift!
Commonly known as the Spath or Peace Lily, this medium potted plant is delivered in a basket.
Upgrading to "Deluxe" or "Premium" includes a keepsake container and/or accents such as branches, birdsnests, or fresh flowers.
Sku: T105-2A
Dimensions: 30 in × 30 in × 37 in