Three Dozen Red Roses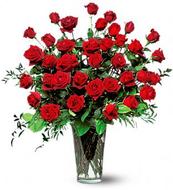 SKU: TF30-1
Deliver an unmistakable message of Love with a capital "L" when you send three dozen magnificent red roses in their own elegant glass vase!
Three dozen long-stemmed red roses in a striking glass vase.

*Please note that due to the increase in rose prices at Valentine's Day, this arrangement will not be available at this price from a week before Valentine's Day through the end of Valentine's Day week. Please visit the "Valentine's Day" section of the website for accurate holiday pricing.
Dimensions: 30 in × 30 in × 34 in